The challenge: For its 2016 sustainability campaign, toom Baumarkt received support in promoting its PRO PLANET products. The goal was to raise awareness for the issue of sustainability among Baumarkt customers and to present the PRO PLANET label to the target group in an effective manner. The campaign focused on two sustainable products, emulsion paint and peat-free soil, which were presented in impressive hands-on campaigns in 300 toom Baumarkt branches nationwide.
The solution: In order to realise its brand promotion, toom Baumarkt received representative brand ambassadors with in-depth product expertise. Brand promoters proactively approached Baumarkt customers and encouraged them to test the PRO PLANET products on site. Together with the brand ambassadors, visitors were able to try out the emulsion paint and plant small strawberry plants in peat-free soil and then take them home with them. In addition to the provision of personnel, further measures were implemented for the campaign.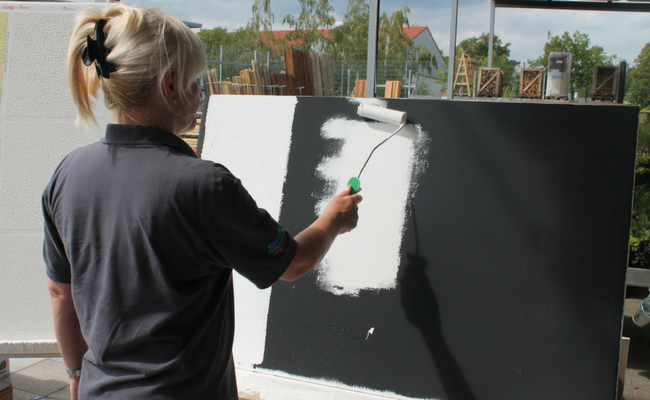 Key data
Customer:

toom Baumarkt GmbH

Projects:

Nationwide Brand Promotion for PRO PLANET

Trading companies:

toom Baumarkt

Country: Germany
Time period:

Q3 2016
Strategy
Coordination and consultation with around 300 branches as part of the campaign
Operational planning and task review for Sustainability Day
Performance evaluation via myMissions and mySurvey Analyzer
Video training of brand ambassadors in preparation for the campaign
Outcomes
Strengthening products with the PRO PLANET label
Raising the awareness of visitors on the issue of sustainability
Positive perception of the promotion by visitors
Very good campaign evauation as a sales support measure by the branches
Get started with PRofiFLITZER
Our vision is today's reality. The result of our successful development work is perfectly organised audition processes, as well as the employment of helpful online tools. We have set ourselves the goal of becoming Germany's best PoS service provider. We are very proud to offer our services to an extensive clientele of renowned companies and to win over more and more customers than ever before.